We have a range of events going on each month! See below for further information!
Trainings 
We have a range of trainings available in the next couple of months. Please call 01554 752422 for more information or to book a slot!
23/02/18 – MARAC Training
05/03/18 – Volunteer Induction
09/03/18 – MARAC Training
21/03/18 – Volunteer Induction
SHWOP Event
We are running more SWOP events over the next few months so if you want to bring something along to swap then come along to Paddock Street and have a look!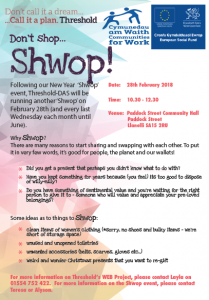 Freedom Program Dates
Our Freedom Programme is continuing on Tuesday mornings in our Outreach Office! The next few sessions are as follows:
January 16th – The Bully
January 23rd – The Bad Parents
January 30th – The Effects of Domestic Abuse on Children
February 6th – The Head Worker
February 13th – The Jailer
February 27th – The Sexual Controller
March 6th – The King of the Castle
March 13th – The Liar
March 20th – The Persuader
March 27th – The Warning Signs
If you wish to take part in these free courses then please email Hadeel on hdart@threshold-das.org.uk.
January 10th & 11th, 2018 – L2 Play Work
In January we will be holding a two day session of events looking at play work with children. Topics covered include; benefits of play work, how play workers support children and how to plan children's play work. This course is accredited through Agored Cymru to Level 2 standards. To book your spot please call 01554752422! For more information view the L2 Play Work poster!
November 16th 2017 – WEB Christmas Craft Stall!
Over the past few weeks attendees of our Women Exploring Business (WEB)  program have been working hard designing and creating items. This upcoming week the women shall be at the Llanelli Outdoor Market selling their homemade craft items between 10am – 2pm. Please come down and support them as they sell their items! For more information please see the poster!
November 25th 2017 – White Ribbon Day
On November 25th it is White Ribbon Day – a day which takes a stand against violence against women internationally. Across Llanelli we will be running various events to help raise awareness about this problem and to help put an end to domestic abuse. Alongside this event we will be selling white ribbons which you can buy and wear as a sign of support and to take a stand against domestic abuse. Please see our poster for more information!
December 6th 2017 – Learn Nail Art!
This December we will be running a one-day event in which attendees can learn how to create some festive nail art and have the option of having their own nails painted too! For more information please see the Believe Christmas Nail Art poster and please contact us if you wish to book a place!
For information on past events please look at our newsletters below. To access the current newsletter or to see our previous newsletter then click the links below!