Threshold DAS offers the Freedom Programme, a 10-week programme to support women survivors/victims of domestic abuse to come to terms and make sense of their experiences.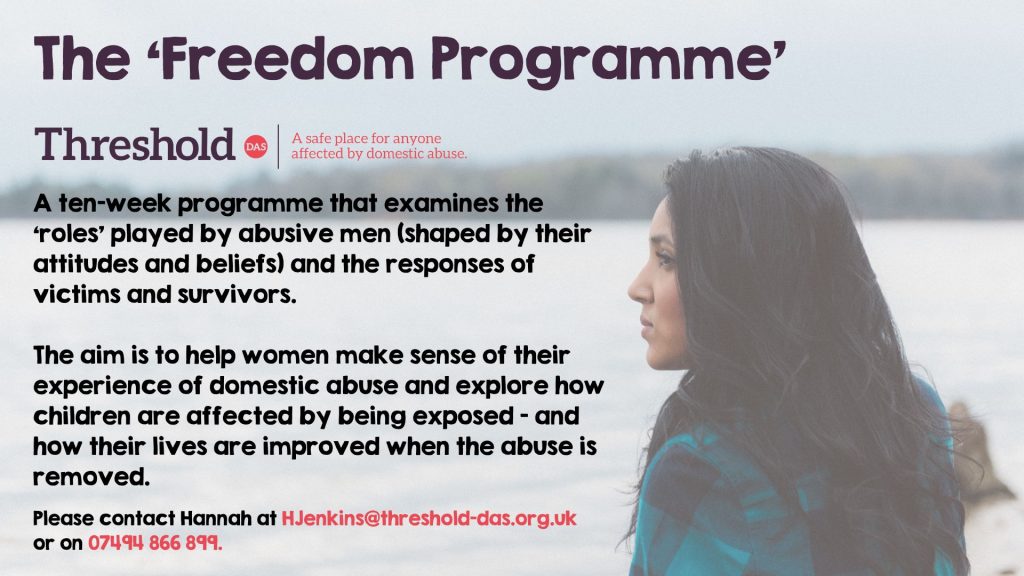 Our face-to-face programme runs Thursday mornings from 10 – 11.30. It explores the different tactics perpetrators use to abuse us, how abuse affects our relationships with our children and the improvements they potentially make when they are no longer exposed to abuse.  The course provides guidance on how women can make healthier relationship choices to protect themselves and their children and helps attendees understand why domestic abuse happens and how to identify signs of abusive behaviour.
Women can share their experiences in a safe and non-judgmental space and gradually build the skills and confidence needed to break abusive behaviour patterns in relationships.
The programme is free of charge but registration is required.
For more information please contact Hannah at HJenkins@threshold-das.org.uk
If you are suffering from domestic abuse and would like support, please contact:-
Email | enquiries@threshold-das.org.uk
Telephone | 01554 700650