One of the best steps you can make when improving your mental health is by being aware of your emotional state and what can trigger and increase in both happiness and sadness. One way of tracking this information is through a new app called "Moodscope". This app introduces a daily card game which helps identify your current mood, triggers which may have led to the mood as well as monitoring daily fluxes in your mood. The app can be viewed and used from here!
Below, we have some more buy Zithromax online information about the app and how it can help as well as other helpful tips to boost your mood on a daily basis!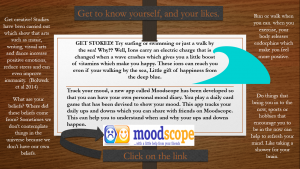 To use the Moodscope app please visit their page at: www.moodscope.com
Another thing which can impact your mood and emotions on a daily basis is the food and drink you are consuming. Check out the cards below to find out more about the importance of getting the right amount of vitamins and minerals in your diet and the effect it can have on mental health.
[wp_quiz id="978″]