THE SMART PROJECT
The SMART (Striving, Motivated and Resilience Team) Project is funded by a grant from the Volunteering Wales Grant Fund, provided by WCVA and WELSH GOVERNMENT.
The volunteers who join the 'SMART' project can work in a wide range of areas and positions within Threshold DAS or outside of the organisation in their chosen field.
All volunteers will undergo an in-depth induction (over three days), both formal/informal training in these settings – providing them with valuable skills and experiences. We will also provide them with Accredited Agored Cymru Qualifications in several subjects including: Volunteering at level 1 and level 2, Community Development, Assertive Living, Confidence Building, Enterprise, Employability Skills etc. All volunteers will receive 14 hours+ accredited Agored Cymru raining.
Volunteer opportunities will include;
Administration work,
IT work,
Reception and customer service work,
Working with children and young people,
Designing databases,
Finance work,
Accredited educational delivery programmes,
Website support,
Befriending service,
Publicity and Marketing,
Holistic Therapies,
Fundraising and Events,
Newsletter,
Refuge support,
Working in organisations of your choice outside of the organisation.
If you are interested in coming alone and having a chat please contact:
Teresa Evans-Armstong – Volunteering Coordinator  – 01554 752422 – TArmstrong@Threshold-Das.org.uk
Alyson Davies -Volunteering Coordinator  – 01554 752422 – ADavies@Threshold-Das.org.uk
We are also running several SHWOP events over the coming months and if you would like to take part then come along to Paddock Street and get involved! See the poster below for more information.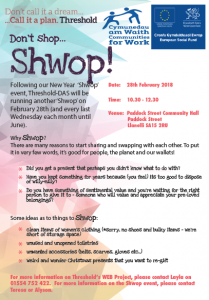 Funded by: